What's in the Ebook?
Process improvement can be a daunting task. Anything that changes your SOP can cause implementation lag and slow down operations for a time. But the benefits of cleaning up your processes for more streamlined, consistent, and efficient procedures is always worth it in the long run. But how to go about it? Where can I find this information? Not to worry, we've got you covered.
Our Ebook, "Lean Six Sigma: a powerful pair for business process automation", takes an in-depth look at the surprisingly compatible combination of Lean and Six Sigma that can help companies remove waste, stop bottlenecks, and improve efficiency in business processes.
If you're thinking that automating your processes is the path to success, then think again. An automated process is only as effective as the process itself. So before you think about opening your doors to automation, it's worth it to make sure that your house is in order.
Check out our Ebook to learn more!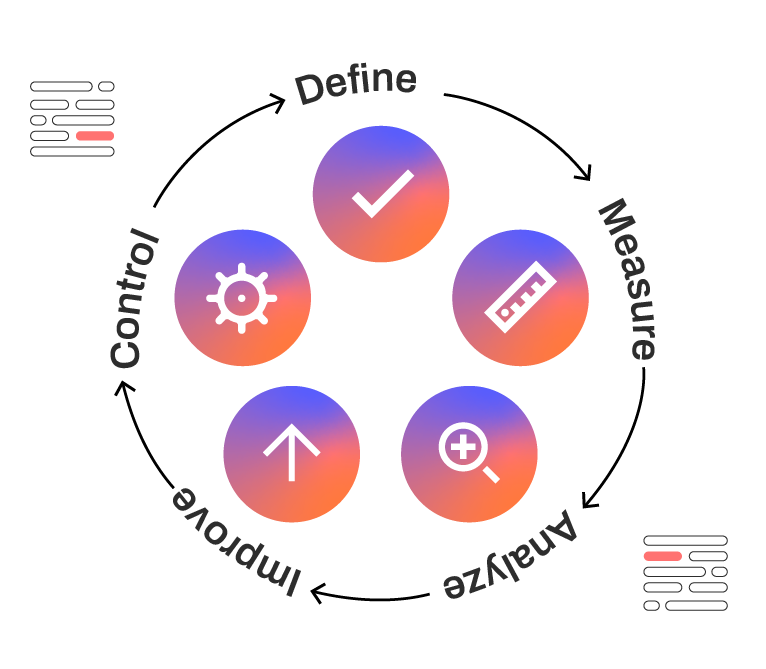 What will you see in this content?
01

02

What is Lean Six Sigma (LSS)?

1.1.Lean

1.2 Six Sigma

1.3 Lean Six Sigma

03

Process Mapping: diagnostics and prognosis

04

Process Modeling: the solution to your root problems

05

What are the benefits of Lean Six Sigma?

06

How to prepare your process for automation

07

How to prepare your process for automation

"Humans are incredibly adaptable. We can take a terrible process and still make it work with a little bit of ingenuity and elbow grease. Robots, on the other hand, don't have that same level of flexibility, no matter how much grease you add to them."
MJV Technology & Innovation
With 25 years of experience, MJV Technology & Innovation helps leverage business, foster innovation, and solve business challenges for some of the world's largest companies.

With offices spread across Europe, the United States, and Latin America, our consultancy has a multidisciplinary team composed of more than 1000 professionals, including designers, engineers, anthropologists, data scientists, developers, entrepreneurs, advertisers, and journalists.

Our specialists aim to offer business intelligence to different market segments, proposing innovative solutions. Our DNA carries on collaborative work, Design Thinking, and Agile Mindset, which guide our processes and projects.
MJV is structured around 5 pillars that work in complete synergy and always keep human-centricity at the forefront:
Technology Consulting
Development and implementation of personalized services in the areas of Business Analytics, IT, and Internet of Things (IoT).
Professional Outsourcing
Allocation of UX, UI, Marketing, and IT Professionals, with the strategic and operational monitoring of MJV, optimizing deliveries.
Digital Strategy
Development and Implementation of corporate strategy and User Experience, placing Digital Transformation as the guiding thread of the business
Business Innovation
Development and Implementation of innovative solutions to reduce costs, increase and generate new revenues, and develop new business models.
Sustainability
Development and implementation of positive impact solutions, considering aspects of the entire ecosystem, looking at business, people, and the planet.