Industry giants like Amazon, Uber Eats, and even Google are considered B2B2Cs. But the trend we're talking about doesn't just concern the business model.
More and more companies are moving into this space as a direct result of the mass exodus of companies moving into digital. Many organizations find it challenging to manage their online presence, e-commerce websites, and digital client management.
This means that there is ample opportunity for B2Bs to fill that gap for B2Cs who are new to the digital sphere. But what exactly is a B2B2C?

How does it relate to the O2O trend? And is there room in this environment for FMCGs?
In this book, we answer all these questions and more. We'll also share with you a few of our in-house cases where we've helped businesses make this transition into the B2B2C market.
Fill out our form and get your free copy to find out how you can take advantage of this opportunity.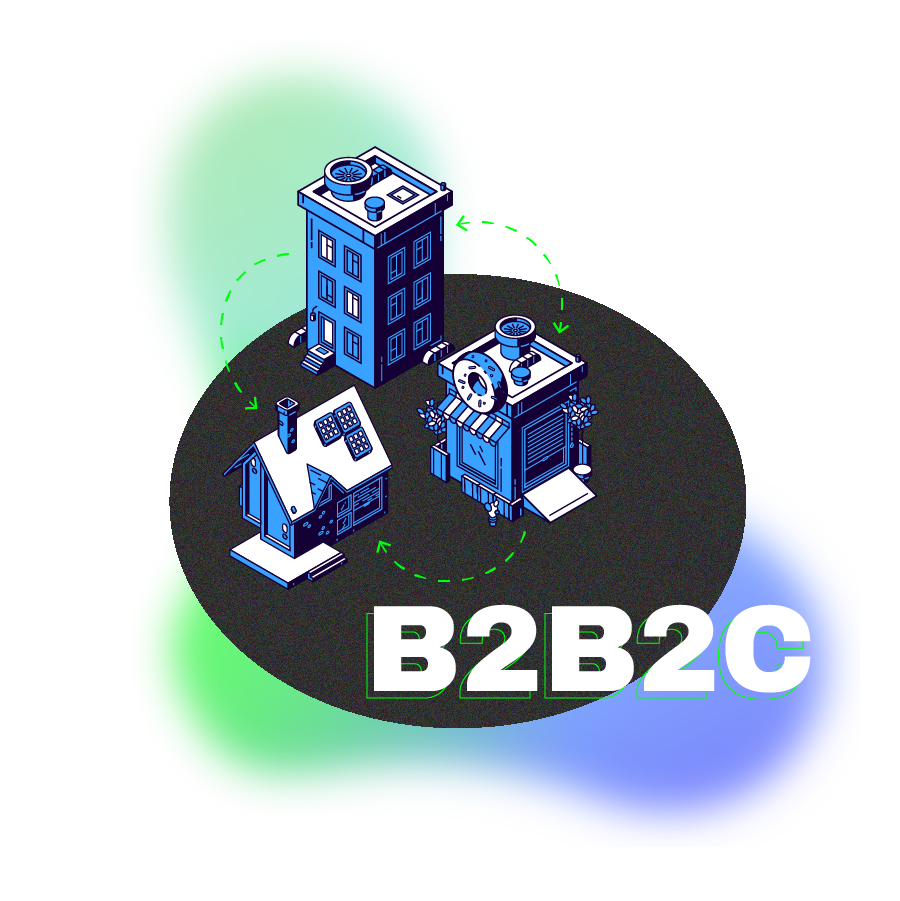 What will you see in this content?
01

What does B2B2C stand for — and how does it work?

02

Why are businesses expanding to B2B2C?

03

What is B2B2C's relationship with the O2O trend?

04

B2C vs. D2C vs. B2B2C: what's the difference?

05

Can FMGCs take advantage of the B2B2C business model?

06

Successful B2B2C companies

07

MJV's Case Studies

Case 1: Assisting an FMCG in transitioning to B2B2C

Case 2: Helping turn an FMCG B2C into a D2C

"In today's digital environment, businesses are beginning to expand their reach to take advantage of new markets and business models. Going B2B2C is one of the tactics that's becoming more and more attractive within our growing digital environment."
MJV Technology & Innovation
With 25 years of experience, MJV Technology & Innovation helps leverage business, foster innovation, and solve business challenges for some of the world's largest companies.

With offices spread across Europe, the United States, and Latin America, our consultancy has a multidisciplinary team composed of more than 1300 professionals, including designers, engineers, anthropologists, data scientists, developers, entrepreneurs, advertisers, and journalists.
Technology
We use technology as an ally in validating and constantly experimenting with new ideas, in addition to humanizing and generating positive experiences for both the users and ourselves.
Design
The development and implementation of accessible solutions based on a structure of business and technology, all mixed together with an agile, collaborative approach.
Strategy
We develop and implement corporate strategies to reduce costs and increase revenues while looking for new business models, focusing on the best possible user experience.
Culture
We are a global, multicultural, and flexible team that seeks innovation and continuous learning. We integrate our expertise to promote improvements towards an innovative, agile, and people-focused culture.
Sustainability
We promote responsible, environmental, social, and economic solutions. Sustainable ones that take into consideration and respect all ecosystem aspects.